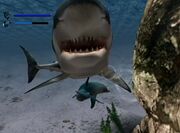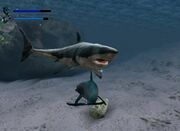 Great White Sharks are a dangerous foe encountered in Ecco: Defender of the Future. They are the most dangerous of the sharks. They can be harmed with the Power of Vigour and a Vitalit is awarded on its death.
Behaviour:
Great White Sharks are a dangerous foe. They are a fast shark that incessantly hunts Ecco in the Coral Reef level. On contact they instantly kill Ecco by devouring him, and contact should be avoided.
Ad blocker interference detected!
Wikia is a free-to-use site that makes money from advertising. We have a modified experience for viewers using ad blockers

Wikia is not accessible if you've made further modifications. Remove the custom ad blocker rule(s) and the page will load as expected.